We help you with prints on aluminum, you may want to have your aluminum board with brushed texture or on ordinary white surface, no problem we have all varieties.
By printing directly on aluminium or Dibond as the material is actually called, you get a final result suitable for both indoor and outdoor use because the board becomes both water and UV resistant.
A picture of aluminium board gives a very exclusive impression!
Hanging you can get as hidden and then becomes the impression that your photo is floating out from the wall.
The standard suspension is four silver skuvar, see picture below:

Choose from brushed, silver, or white whether you want the background to shine through the bright areas of the image. Where the default is white surface.
There are many different formats to choose from.
Welcome with your image order!
5-7 days delivery time.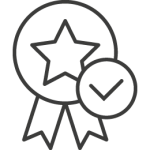 Locally produced images in our lab in Gothenburg